Whether you refer to it as "Blush" or "Millennial Pink", this soft shade of pink isn't going anywhere anytime soon! It is the perfect colour for weddings, Valentine's Day, bridal showers, and other parties or events, but it is also possible to use blush as an everyday colour in your home decor and living spaces. Pink is easy for most people to tolerate (including men!); it is a way to add a tone of red to a space without using red itself, which can be a very bold and difficult colour to work with. When used properly, blush can add softness and sophistication to a room. And it can be used in fresh, contemporary ways very different from the typical feminine styling most might think of.
Here are a few examples to inspire you to add a little pink into your life, ranging from subtle touches to bold statements!
MAKE AN ENTRANCE
Photo Credit: Home Oh My
Paired with soft greys, natural tones, and clean whites, this blush tone almost acts as a neutral in this front entrance. The black and white checkered flooring adds a contemporary touch!
Get the Look: Calamine by Farrow & Ball; Pink Ground by Farrow & Ball
COZY UP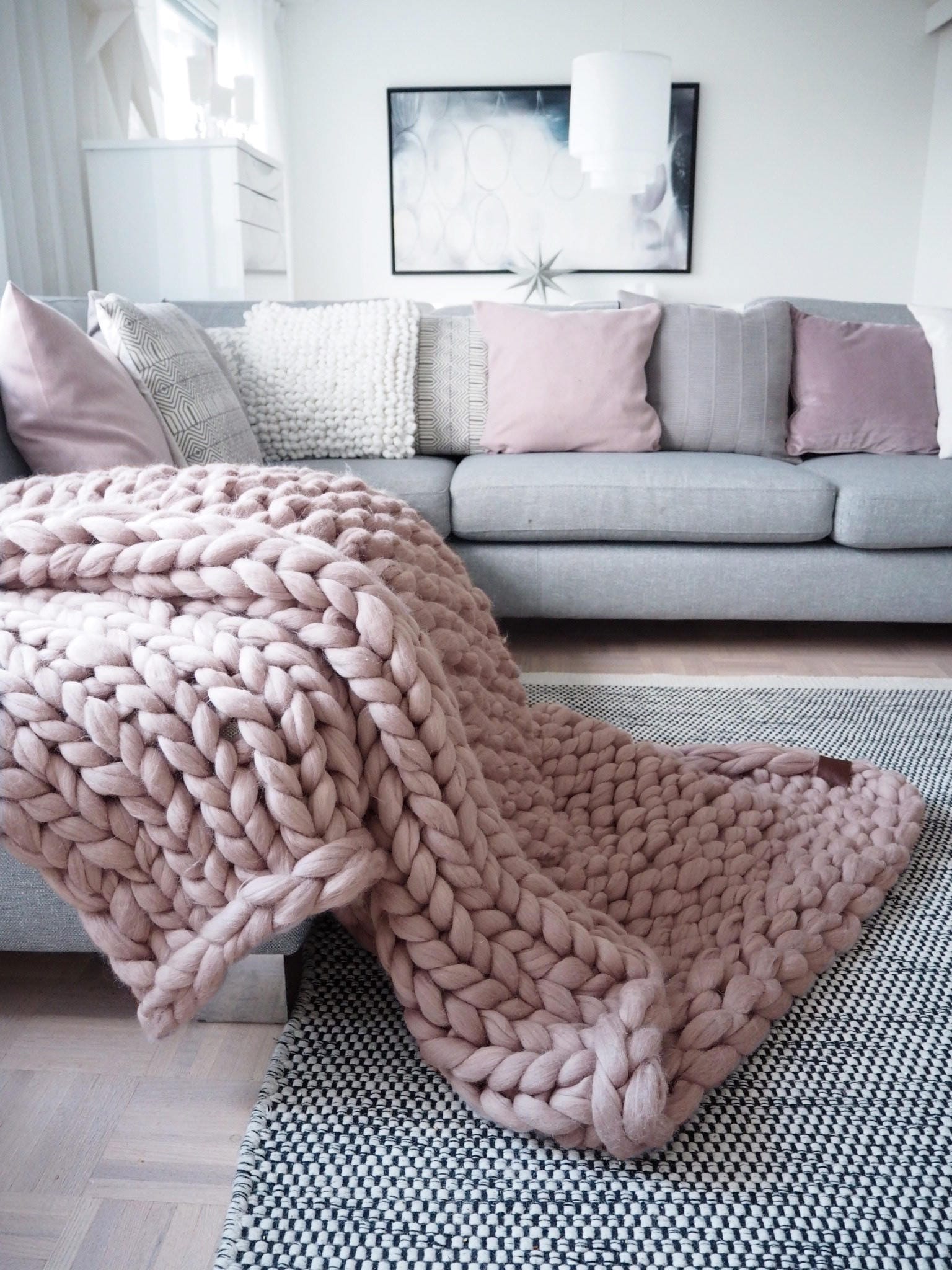 What says love more than a cozy, chunky, oversized blanket? Adding blush through textiles is a beautiful way to inject a soft touch of colour that can easily be moved to a different room when you feel the urge to switch things up (or don't like to commit!)
Get the Look: Chunky Knit Blanket by WoolArtDesign
WELL PLATED
Pretty plates in shades of blush and pink provide a gorgeous option for keeping jewelry, keys, or desk trinkets stylishly organized. We absolutely love Suite 1 Studio's hand-crafted style and creative use of gold detailing throughout their collections of plates and dishware!
Get the Look: Suite 1 Studio
SITTING PRETTY
Photo Credit: House Beautiful
Layering blush with grey and white is an easy and stylish way to do pink on a large piece of furniture such as this couch. Add little pattern with decorative cushions and incorporate copper accents to inject dimension into your space.
Get the Look: Young Bean Sofa by Loaf
PILLOW TALK
An easy and inexpensive way to update a room is to add pillows. Mix and match patterns for interest and personality, or use texture to add soul and warmth.
Get the Look: Pink Watercolour Striped Pillow & Preppy Pink Buffalo Plaid Pillow on Zazzle; Dusty Pink Velvet Pillow from West Elm
CURATE A LOOK
Incorporating navy with blush pink is a simple way to down-play the feminine factor and ground a look. Large-scale art makes a bold statement that really grounds a room and adds instant personality.
Get the Look: Blush Love Travels Art by HelloPaperCo; Budding Peony from Minted
FINISHING TOUCH
Photo Credit: Home & Garden Design Ideas
No outfit is complete with an accessory or two and, similarily, no room looks finished without that special little something! Accessories provide a quick and easy way to add some colour to a room without commitment or expense.
Get the Look: Pink Geode Clock; Rushing for Blush Chandelier Lampshades