The "Localist" series highlights local establishments, businesses, and startups in cities across Canada in an effort to encourage support of local goods and services.
I was introduced to Laughing Lichen by a friend who lives in Inuvik, NT, and I fell in love with their lip balm. My favourite is the Labrador Tea and Rosemary variation; the Pacific Seaweed and Wild Mint is also lovely. If you're into "natural", this is as natural as it gets! Handmade with wild herbs, blossoms, and seaweed from Canada's Northern wilderness, these lip balms not only smell good but they also work really well. And they're good for more than just your lips; I've used them for chapped skin, especially on my face, as well as my hands.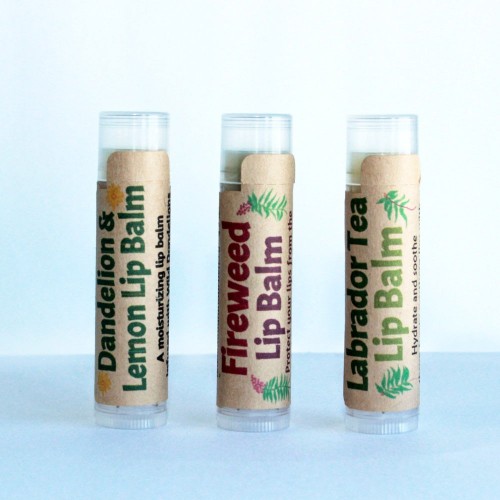 Base Ingredients for each Lip Balm: Olea europea (Extra virgin olive oil), Cocos nucifera (Virgin Coconut Oil), Vitellaria paradoxa (Organic Fair-trade Jojoba), Simmondsia chinensis (Organic Fari-trade Shea butter), Cera Alba (Canadian beeswax), Vitamin E, Wild herbs (depending on lip balm variety)
Another product I love is their hand-crafted soap. Made with natural ingredients it's almost good enough to eat! All of the soaps made at Laughing Lichen are 100 % natural, vegan and contain hand harvested wild ingredients from Canada's Northern Wilderness. The Arctic Rose and Cranberry Soap features features wild cranberries harvested by hand and wild rose harvested in the spring months.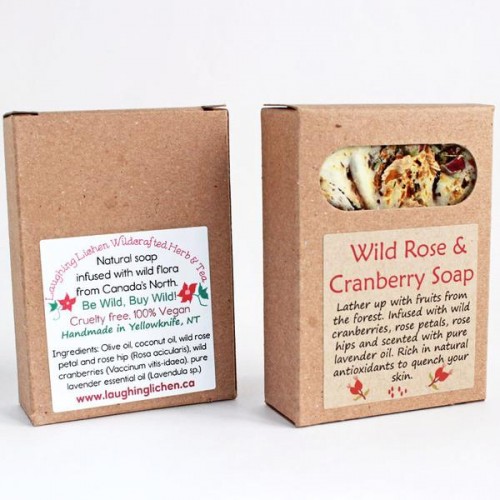 Ingredients: Extra virgin olive oil, virgin coconut oil, Aqua, wild cranberries (Vaccinium vitis-idaea), wild rosehips, wild rose petals (Rosa spp.), lavender essential oil, sodium hydroxide (used in soap making process but not present in final product).
Laughing Lichen is an independently owned wild-crafting business established in 2011. The facility is located near Yellowknife, Northwest Territories, in an off-grid setting in the wilderness. The products are handmade in small batches using hand-harvested the highest-quality wild herbs, berries, lichens and fungi. The ingredients are collected from remote areas of northern British Columbia and the Northwest Territories; Laughing Lichen operates under the philosophy of ethical environmental stewardship and applies this vision to all facets of the business – from initial harvest to final product, ensuring a sustainable future.
Laughing Lichen products are available on their website, https://laughinglichen.ca, and at select stockists. You can also learn more about them on Facebook and Instagram.