Full confession – I'm a bit of a pen snob. Anyone who can relate knows that a well-writing pen makes all the difference! If you don't write a lot then the type of pen probably doesn't matter, but if you write on a regular basis then you need the right tool for the job.
For me, the pen has to be comfortable, has to be black ink (I despise using blue ink or coloured ink unless maybe for quick notes that will be thrown away soon), and has to write smoothly. Oh, and it has to look good, too.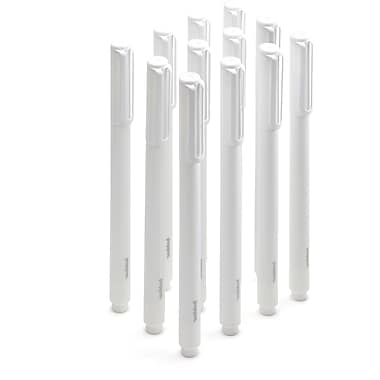 Although I like a couple more expensive pen brands, in the category of affordable, everyday use pens my go-to is Poppin. Not only do they look sleek and stylish sitting on your desk but they also write well, leaving smooth and solid strokes. They are comfortable to hold despite not having any rubber grip near the tip.
I've never used their gel pens as I'm not a gel pen fan, but the regular pens I recommend; they can be purchased at Staples and online. Poppin also sells a number of other office utensils such as pen holders, trays, staplers, and file folders, allowing you to create a streamlined and matching office style!